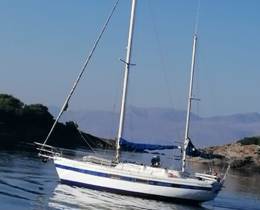 Coronado 37 Ketch
Price: 500 euro/person/week (All inclusive). Skippered charter.
Special offer >>

[Book it now]
------------------------------------------------------------------------------------------------------------
PRICE: 500 euro / person / week
All inclusive. Skippered charter.

INCLUDED IN THE PRICE
1. Experienced skipper (captain), 2. Breakfast (Coffee, tea, snacks, cookies, jams), 3. Transfer (transportation) by mini bus from/to the airport to/from the embarkation dock, 4. On board Passengers Insurance, 5. Fuel expenses, 6. Ship water, 7. Use of fun-equipment on board (Flippers, snorkel, fishing lines, hammock etc.), 8. Outboard and Tender(=Dinghy), 9. Informal sailing lessons, 10. Bed linen, 11. Basic starter kit: paper ware, dish soap, toilet paper, garbage bags, etc, 12. All Taxes, 13. Sailing the Sporades islands, 14. Stay and sleeping on board, 15. Port procedures, 16. Mooring expenses, 17. Yacht End Cleaning 18. Security Deposit, 19.In all of our yachts there is sufficient safety equipment on board including life jackets & lines, dingy boat and a life raft. These all meet international safety requirements.
>> The price is concerning one week sailing to Sporades islands, for 7persons group, plus an experienced skipper, by sailboat "Coronado 37 Ketch", 2 spacial double cabins, 8 births (beds), saloon, kitchen, bathroom-wc.

NOT INCLUDED IN THE PRICE
1. Entrance fees to historical places and museums, 2. Scuba diving, 3. Local bus tickets, taxi fees, train tickets, 4. Car rentals, bicycle rentals, 5. Meals and drinks at taverns, restaurants, bars.

[This offer expires at midnight, December 31, 2017].

.......................................................................................................